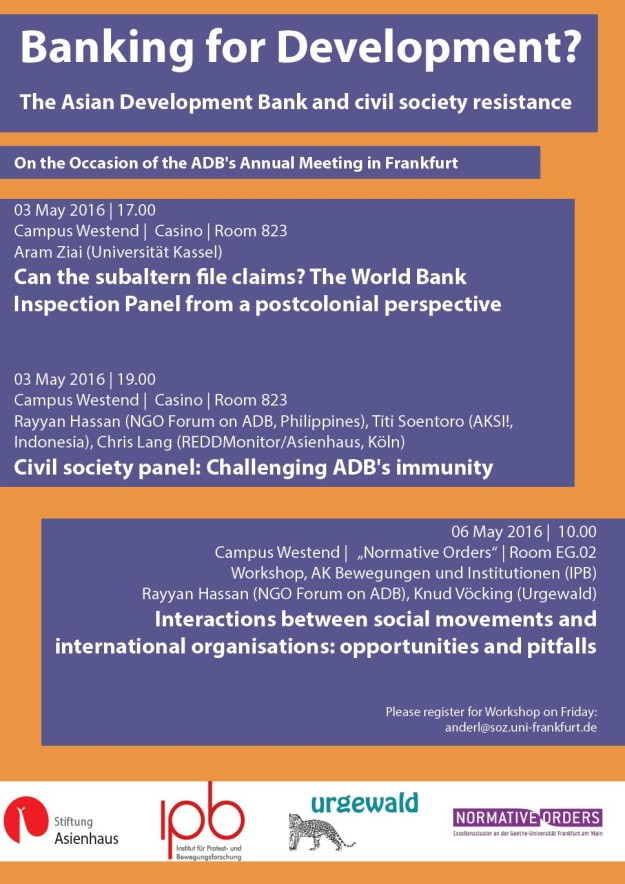 In the first week of May the Chair of International Relations and Theories of Global Orders, in cooperation with Asienhaus, Urgewald the Institute for Social Movement Studies (IPB), hosts three events to accompany the annual meeting of the Asian Development Bank (ADB) that takes place in Frankurt this year.
On Tuesday, the 3rd of May at 5pm, there will be a lecture by Aram Ziai (Kassel, Germany) on "Can the subaltern file claims? The World BAnk Inspection Panel from a postcolonial perspective".
The same evening at 7pm, Titi Soentoro (AKSI, Indonesia), Rayyan Hassan (NGO Forum on ADB, Philippines) and Chris Lang (REDDMonitor/Asienhaus) will present the impact of ADB-projects in the contexts of gender, rights and environment. 
On Friday, the 6th of May there will be a day-long workshop by the IPB's Working Group on Movements and Institutions on the interaction of social movmements with international organizations. For this workshop we ask you to please register under anderl@soz.uni-frankurt.de.