The International Dissiden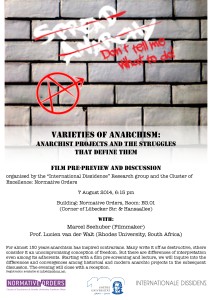 ce research group and the Cluster of Excellence "Normative Orders" invite you to a film pre-preview and a discussion on "Varieties of Anarchism: Anarchist Projects and the Struggles that Define them" on 7 August 2022 at 6:15 pm.
Starting with a film pre-screening and a lecture by Prof. Lucien van der Walt (Rhodes University, South Africa), we will inquire into the differences and convergences among historical and modern anarchic projects in the subsequent discussion.
The film pre-screening and discussion will take place in the Normative Orders Building, Campus Westend, Room EG.01 (Corner of Lübecker Str. & Hansaallee).